Getting Started
Interakt is built to empower you by adding a management and engagement layer over your existing app. You can move the data mining, analytics and interaction tasks out of the app to a separate platform and your app can perform its core features.
Contents
Installation
Interakt can be installed in your app by simply copying a few lines of code to the existing markup or by using one click installs for the major platforms/frameworks.
Prerequisites
An app/website that you are managing.

5 minutes to get you started.
Setting Up
Setting up Interakt is easy and you can start engaging your customers as soon as your project is activated (activation is an automated process).
If you haven't already, Add a New Project.

If you've already created a project, switch to it from the left nav.
Navigate to Project Settings by clicking on the "Gear Icon" in the bottom-left corner.
Make sure you have filled in the basic settings for the project under Project Settings.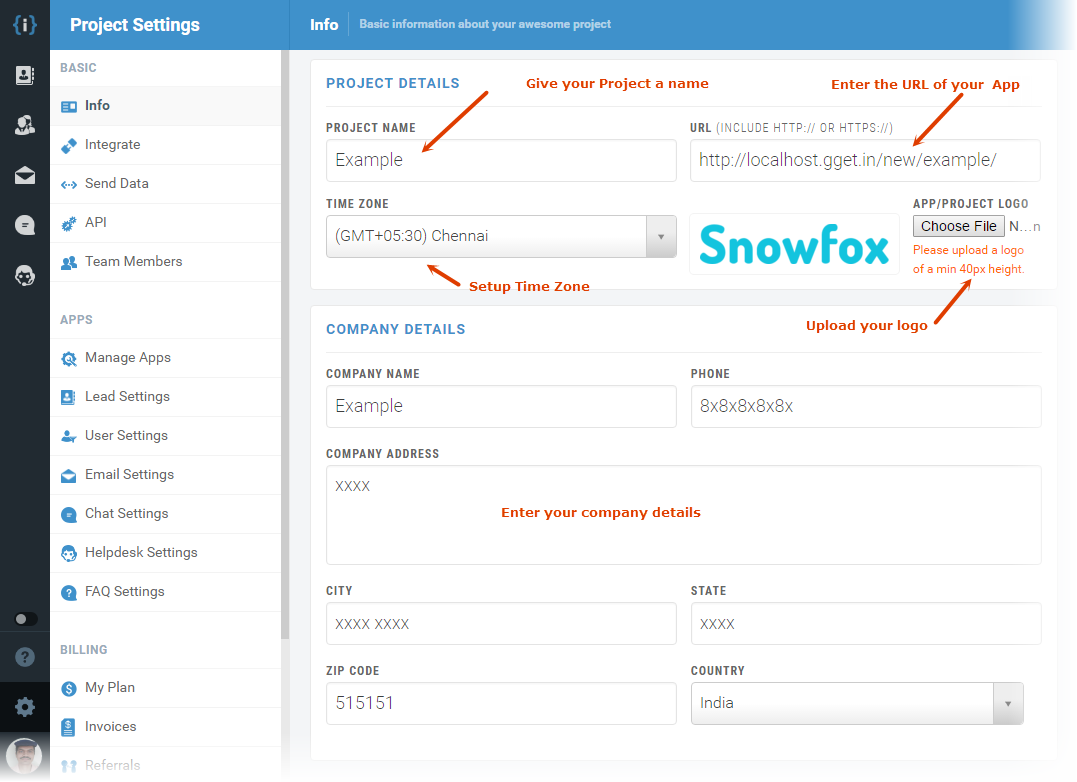 Click Integrate on the left.
Integrating Interakt
Interakt offers integration scripts and addons to integrate it easily into your app. For that, click on Integrate from the left sidebar. You will see two tabs - Manual Integration & One Click Integration.

Manual Integration: Choose this integration type if your app is built on a core Programming Language. You need to grab the given code and follow the instructions given there. For example, If your app is built on Django, click on the icon "django", learn how to integrate and proceed with the integration grabbing the given code. See Platforms. Take a look at this article for rest of the installation or proceed to "B" if you are using a web service/framework.


One Click Integration: Choose this installation type if your app/website is built on a third party service or a script. For example, if your website is based on WordPress, click on WordPress and follow the given instructions. Click here to go to the "Web Services Section" for rest of the installation.
Feel free to connect in case of issues at support@interakt.co
⇪ To Contents